Deep Draw Hydroforming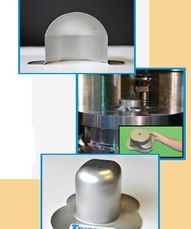 For applications requiring a controlled flow of the material, such as deep drawn parts or those with curved geometries which have the potential to wrinkle during the forming process, Triform Deep Draw presses are the ideal solution.
In the computer-controlled Deep Draw process, the downward-acting bladder primarily acts to hold the material during pressurization, as the tool is extended atop a hydraulic punch cylinder. This draws the material into the bladder and allows it to flow as needed.